It is with a heavy heart that I announce that we had to let our beloved chocolate Labrador Retriever, Scooby Doo, go last week.  My hiatus from this site over the past one and a half months has been due to my focus on Scooby, as he began his slow decline on January 15 of this year.  The first sign was his refusal of his normal breakfast that morning.  For Scooby, this was highly unusual, as he was a dog that devoted his life to the discovery of food.  Luckily, because I am now always prepared for such occasions, I grabbed a can of "Hunk of Beef" and Scooby happily gobbled that up.  The next few mealtimes were not significant, but shortly thereafter, I found that I had to switch to wet dog foods, which were the only food that Scooby seemed interested in.  There were many days that I fed him by hand from the bowl.  Other days, I would just hold the bowl up for him, making sure that he (and not our other dog, Apollo) ate it.
Over the course of the past couple of months, I saw Scooby lose strength in his back legs, refuse treats, refuse meals, and towards the end, refuse water.  On the bright side, I saw him enjoy his daily walks, even if that meant only walking a half block, or sometimes even only to the next door neighbor's lawn.  I thought we were going to lose him in mid-February when I had to take my son to a state robotics competition in Ellensburg, WA and my Mom stayed at our home to watch him.  I saw him bounce back and celebrate his 14th birthday at home with his favorite doggie carob cupcakes.  This is the last time I can remember Scooby being on my bed, back in November: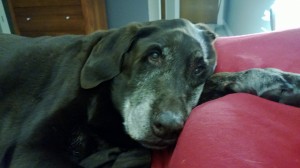 But then, I saw him not want to move at all.  He'd try to lift himself up, but give up because the exertion was too great.  I no longer saw him wag his tail.  I no longer saw him enjoy meals or treats.  It was my hope that Scooby would choose to pass on his own, but it was not happening and I only saw him grow weaker and more disinterested in what was happening around him.
Scooby had trouble coming into the world.  He was the runt of his litter, and was born 24 hours after all of his littermates.  He was so small that he could not compete with the other puppies when it was time to nurse.  He was handfed from a bottle until he was strong enough to fend for himself.  But from that point on, he was unstoppable.  He lived a pretty great life, not too many trips to the ER, and nothing too serious, until we learned last November of the multiple tumors he had — one 10-inch, melon-sized tumor near his bladder, and others in his liver and spleen.  Fine needle aspirates revealed no cancerous cells, but we know that that is inconclusive.  Because of the location of the tumors and Scooby's age and other conditions — most seriously, laryngeal paralysis — I did not choose further diagnostics or surgery.
So, in a way, it made sense to me that Scooby might need some help leaving the world as well, as much as it pained me to make that decision.  I think it's easy — well, easy is a relative term here — when our dogs pass on their own.  They take care of it, so we don't have to make a decision.  I have always admired those who have had the courage to make the hard call, to recognize prolonged suffering and a low quality of life.  I had hoped I would not be faced with such a hard choice, but yet, that is where I was last week.  On Tuesday morning, I made an appointment with Dr. Barry Rickman, VMD, of Peaceful Companion to come to our home on Thursday afternoon.  Part of me hoped that I wouldn't need the appointment after all, that Scooby would decide to leave the world of his own accord in the meantime.
But it didn't happen quite that way.
We did have some lovely time in the sun on Wednesday afternoon, a rare, warm afternoon in this super rainy month of March here in the Pacific Northwest.  Scooby and I lay next to each on the grass, where I secretly hoped that the warming rays of the sun might heal what was happening inside his body.  Here is a picture of Scooby: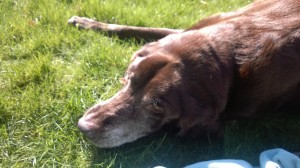 My sweet boy died peacefully at home in my arms on Thursday, March 13, 2014 at the age of 14, almost 6 years to the day after his half-brother, Porter, who was the impetus for my book.  I think of them romping around happily with Jasper, our yellow Labrador Retriever-hound mix, who blessed our household for almost a year back in 2009-2010.
Scooby remained at home until we brought him to Precious Pets, a crematory in Auburn, WA.  I lit candles around him, and covered him with the same blanket that covered Porter and Jasper when they passed.  Here he is: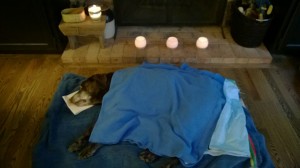 Scooby (and his famous cupcake-eating antics) will be sorely missed.  (He even once checked a kid at our annual Halloween party to get to candy that had fallen from a piñata.)  The pain in my heart is palpable; and there is a piece of me that is now gone forever.  I love you, my sweet Scooby.  May you rest in peace.